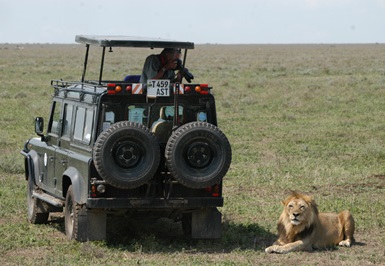 Tanzania needs little introduction. The huge herds of wildebeest, zebra and gazelle that make up the Serengeti migration visit the Southern end of the Serengeti National park in January, February & March. At this time of the year the grass is short and rich in nutrition, attracting the largest concentration of game animals to be found anywhere on Earth This is also the time when these animals give birth. The predators move in to take advantage of this easy source of food; it is undoubtedly one of the most spectacular wildlife experiences one can witness. Lion, cheetah, hyena and jackals are plentiful and easy to spot in the short grass on the vast plains. Apart from Serengeti, visits to the well known Ngoro Ngoro Crater, Lake Manyara National Park and Tarangiri National Park make wonderful additions to the migration experience. These parks are within close proximity to each other and can be visited on a ten to twelve day Tanzania safari.
Lindstrom's African Adventure Safaris offer a true African wilderness experience in conjunction with Soren Lindstrom's brother Peter Lindstrom who runs a very successful safari business in North Tanzania. He, like ourselves, specialises in safari under canvas. The camps are mobile with all the luxuries of home.

Totally bug-proof tented accommodations, with en-suite showers and toilets. Dining/bar tent and a full compliment of staff are there to attend to your every need. Excellent cuisine with three course meals and home made bread. A daily laundry service is provided.
The advantage of the mobile tented camp is that we can position ourselves in the best possible game rich area at any time of year. This is of particular importance when the migration takes place.
Our mobile tented safaris are usually combined with some days in lodge accommodations, which would be chosen to suite your taste and budget.