Kenya needs no introduction – one of the most popular places to visit for a safari due to its concentration of game, not to mention its beautiful coast and fascinating people.

Home to the iconic Maasai Mara Game Reserve which is widely considered to be Africa's greatest wildlife reserve. The Mara comprises 200sq miles of open plains, woodlands and riverine forest. Each year the Mara plays host to the world's greatest natural spectacle; the Great Wildebeest Migration, these magnificent creatures migrate from the Serengeti to the Mara. From July to October, the promise of rain and fresh life giving grass in the north brings more than 1.3 million Wildebeest together into a single massive herd. They pour across the border into the Mara, making a spectacular entrance in a surging column of life that stretches from horizon to horizon.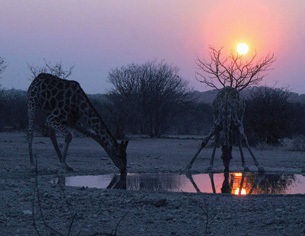 The wildebeest bring new life to the Mara, not just through their cycle of regeneration of the grasslands, but for the predators who follow the herds. The Mara has been called the Kingdom of Lions and these powerful hunters dominate these grasslands. Cheetah are also a common sight in the Mara, as are Hyena and smaller predators such as Jackals.
South Western Kenya is also the heartland of the Maasai tribe; strong, independent people who still value tradition and ritual as an integral part of their everyday lives. They regard themselves not just as residents of this area but that they are as much a part of the life of the land as the land is part of their lives. This unique co-existence of man and wildlife makes this Maasai land one of the world's most unique wilderness regions.
Other top safari destinations in Kenya include Tsavo East and West which offers great game viewing close to Kenyan beaches, Samburu National Park particularly good for leopard sightings and Amboselli – offering the best views of Mount Kilimanjaro.

The Kenyan beaches are exceptional. Expect fine white sand and crystal clear waters – whether you want to relax and unwind or pick up a snorkel or fishing rod, the beach resorts offer something for everyone. Safari and beach holiday combinations can be easily organized and provide a well-rounded trip for both first-time and seasoned safari travelers.